They come from two different

worlds

and yet they have the road in common
#(S)heWorks #ICare, it's a mix of different people, cultures and stories which would never have exchanged without this event. In partnership with Truck Parking Europe, Save Assistance/DocStop and this year Scania, Atlandes and Egis Exploitation Aquitaine will surprise you with an atypical day.
For the 5th edition of this flagship event, HGV drivers and Patrollers will meet on the Magescq West rest area, on Thursday March 10, 2022, between 10 am and 4 pm. A special day to make prevention with kindness and fun! It's also an opportunity to highlight sometimes forgotten professions. This year in particular the event will take on a new dimension by placing women in the spotlight. It will also extend to Europe, particularly in Portugal on the A24 highway, in the presence of the new ASECAP president, António NUNES DE SOUSA.
There are faces that

we don't

forget…
A transitory photographic studio will be set up in the rest area to create a strong link between truckers and Egis employees. The objective is to anchor vigilance in the memories to guarantee the protection of patrollers in the long term.
To act,

is to

protect!
The HGV drivers role is to protect the others and themselves applying the adequate practices on the road. To illustrate this awareness, drivers will leave with a customized t-shirt, a sign of their commitment to safety.
A motor to explain many thin

gs

…
To overcome language barriers, the company AlixM will do a street performance with poetry and a motor to image a story without words.
These small gestures that make the difference
To take care of HGV drivers, Atlandes organizes a new workshop with personal trainers : free preventive exercises to improve driving posture. An animation focused on health of men and women
who travel
thousands of miles to support everyone's needs.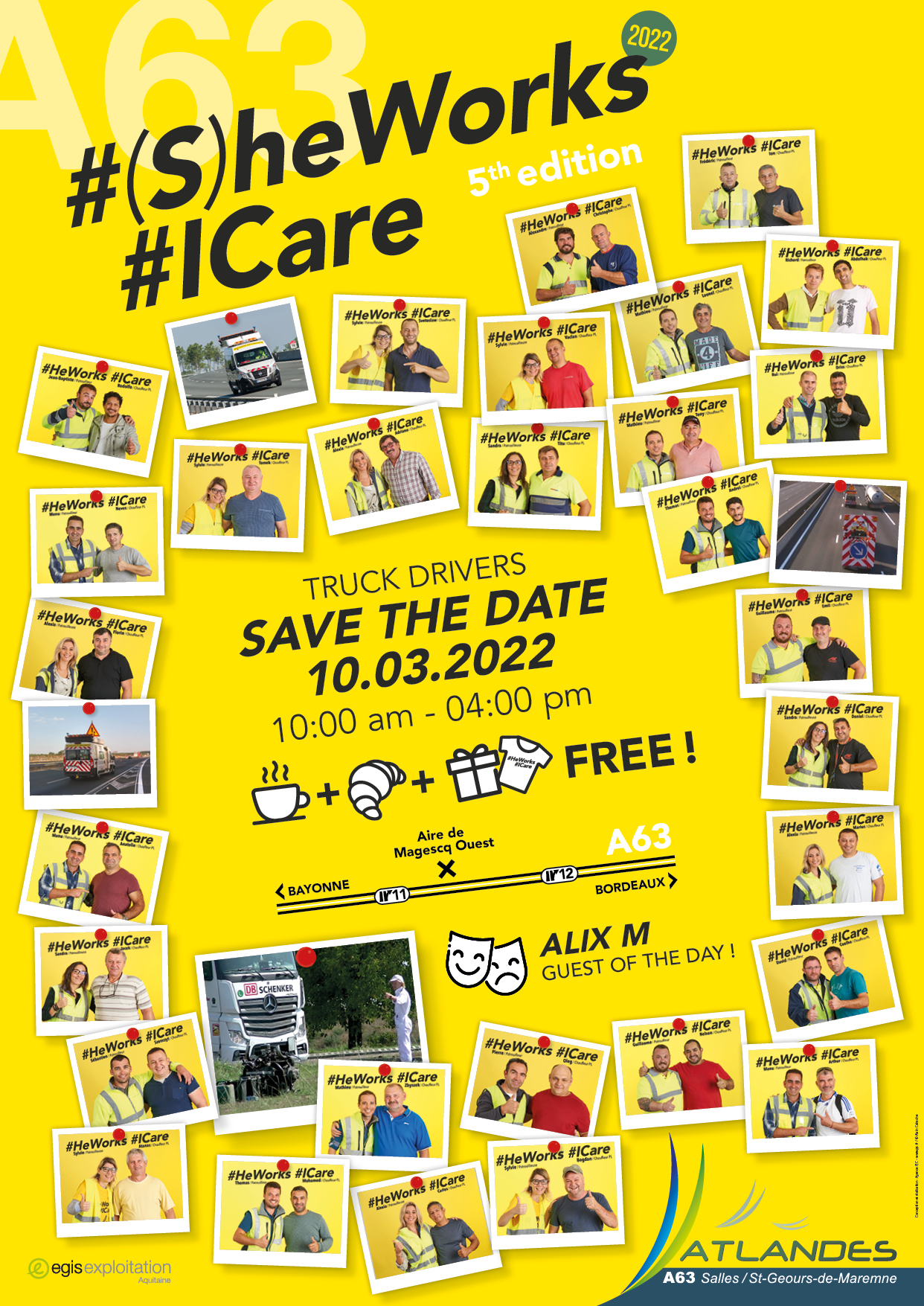 To watch the video of the previous edition, click here.