Emergency calls network
The A63 motorway of the Landes has an emergency telephone approximately every two kilometers. With a simple phone call, you will be transferred to an operator at the Maintenance Centre of Saugnac-et-Muret available 24 hours a day, who is fully qualified to take the appropriate measures to assist you.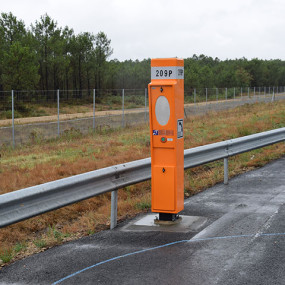 In the event of a breakdown:
Stop on the hard shoulder or in a shelter.
Turn on your warning lights.
Put on your yellow security vest before leaving the vehicle.
Leave the vehicle (all passengers) on the right side.
All passengers must leave the vehicle. Make sure all passengers, and yourself, are standing behind the safety barriers. Do not put yourself in danger by standing on the roadway, even if it's on the hard shoulder. Do not return to your vehicle: after the breakdown service, you will be able to retrieve all of your belongings.
Make sure you're out of harm's way behind the safety fence and make your way to the nearest emergency phone.
The obligation of the placement of a warning triangle does not apply for immobilised vehicles on the hard sholder of a motorway.
Make a call from the emergency telephone which is connected to the safety services. The emergency phones, placed every 2 km, are connected to our teams. If you are not able to reach an emergency phone (if you're a disabled person who is alone, for example), dial 112. You will be able to use the mobile application "S.O.S autoroute".